Workshop
After ten years of partnership at Baroco's, the violon-maker Guy Coquoz decided to open his own workshop at number 46, Rue de Rome in Paris, one of the most important places in the world of violin -making and trading.
This is where he now pursues the work he started many years ago, helping and serving the very many musicians who have given him their trust.
The team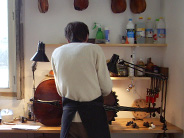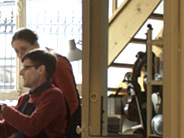 Our activities

Sale
From instruments and study bows and instruments to the greatest works of the great masters of the past, Guy Coquoz' workshop constantly offers his clientele a vast choice in all price categories.

Should you wish to sell your instruments or bows, he offers to sell on commission.
Furthermore, a partnership with the finest European makers allows him to present a permanent selection of fine contemporary violins, violas and violoncellos.

Instruments and bows can of course be borrowed for a week-long in vivo trial period.
Services
Standard repairs, sound adjustments and more specific work such as converting back old instruments back to their original condition, bow rehairing, etc. are executed by Guy Coquoz and his team.